Printable Party Games
offers all the convenient, economical printable party game entertainment you need: Birthday Games, Holiday Games, Shower Games, Christian Games, Mardi Gras, Valentine Games, Easter Games, St. Patrick's Day Games, Halloween Games.
Seasonal Favorites - Printable Party Games
This section features a sample seasonal favorites selection of printable games from each of the vendors.
Visit the links to specialized games collections see all the different games to choose from - some games feature an option to personalize game sheets and cards before you print.
Printable games allow you the flexibility to print as many as you need – enough for every guest.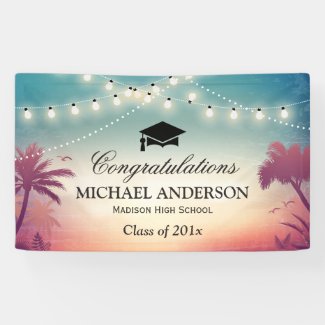 Graduation Party String Lights Summer Palm Trees Banner
Personalize Yours! design by
CardHunter